Galvanized Chain Link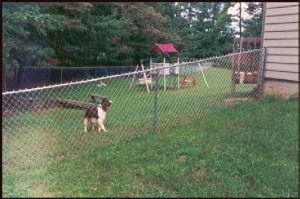 Chain link fences are a combination of steel framework with woven (chain link) wire that can be used in a backyard to keep your children and pets safe or at your business to secure your property. The galvanized finish on the wire and framework is what gives the fence its traditional silver/gray color. Chain link fences are strong and maintenance free. For added strength and security, barbed wire or razor ribbon can be installed on the top of a commercial chain link fence to help keep intruders out or keep livestock in. Colored PVC vertical slats or dense windscreen fabric can be installed on a chain link fence to provide a visual block. Chain link fence materials carry a manufacturers 10 year warranty.
Call today or click on the "request a fence estimate" tab to set up your free, no obligation fence estimate. We will reply to your request promptly and get you started toward adding a beautiful Fox Fence to your property.
Click to view Galvanized Chain Link Fence Gallery